Combo Units
Combo Inflatables Rentals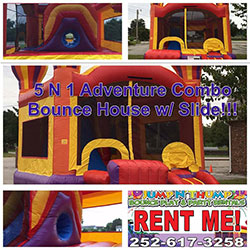 5 N 1 Adventure with Slide
Combo Rental
Dimensions: 18L x 15W x 14H
Rental Cost: $175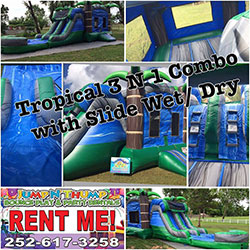 Tropical Blue Crush Bounce House & Slide Combo Rental
Dimensions: 33L x 13W x 12H
Rental Cost: $175 Dry Combo Slide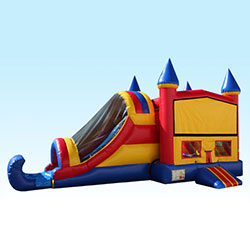 4 n 1 Bounce House & Slide Combo
Rental Banner Options: Frozen, Mickey Mouse, Batman, Superman, Spiderman, Cars, Princess, Little Mermaid, Deigo, Ninja Turtles, Paw Patrol, Peppa Pig
27L x 13W x 14H
Rental Cost: $175
Bounce House Combo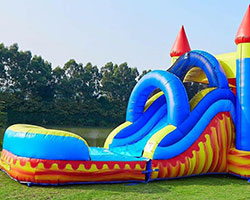 TURBO BOUNCE HOUSE AND SLIDE COMBO
27L X 15W X 15H
Rental Cost: $175 DRY / $225 WET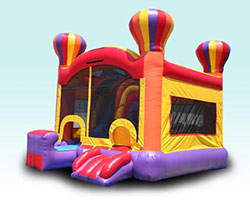 5 N 1 Adventure
Combo Rental
Dimensions: 18L x 15W x 14H
Rental Cost: $175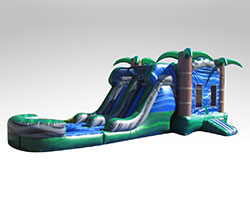 Tropical Blue Crush Combo Bounce House & Slide Rental with Pool
Dimensions: 33L x 13W x 12H
Rental Cost: $175 Dry Combo Slide
If you can't decide between a bounce house, space walk, or slide, consider combo inflatable rentals to give your guests a variety of activities!
These inflatables are available with up to five different activities in one unit. We also have wet options that can be used as water slides! No matter what you or your child's interests or the theme of the party, we are sure to have something that will provide hours of entertainment and fun.
We can setup virtually anywhere, backyards with lush grass, on pavement in the driveway or parking lot, We deliver, setup, and pick up in Havelock NC, Newport NC, New Bern NC, Morehead City NC, James City NC, Bridgton NC, and the surrounding area. For the best selection for your birthday party or party rental of any type, call today and speak to one of our event specialists 252-617-3258.
We Provide Services to the Following Cities, Towns and Surrounding Regions of NC: